Reward somebody today! Cards offers free basketball bookmark awards to print and a basketball bookmark maker that you can use to make personalized sports bookmarks, basketball awards for players, or printable bookmarks for kids at the library, school or home. The bookmark app lets you make a bookmark for any event or occasion.
These also make great party favors for birthday parties, basketball camp awards, or end of the season gifts from coaches. Just click on any of the previews to open the maker in a new tab.
Check out the reading certificates and basketball certificates for more sports awards from Cards.
More bookmarks from$Gift Cards.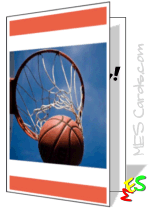 More basketball printables:
For matching basketball stickers and sticker charts, check out Stickers and Charts.
For basketball themed greeting cards and invitations try MES Cards.